Local SEO is slightly different from traditional SEO, as it centers on helping your website and business listings appear at the top of local search results. This makes it easier for anyone near your local business to find your business, and who knows the DC area better than an SEO company located in Washington DC, itself?
Optimize your Google My Business listing
If you want your business to show up in the local listings for Washington DC, then you'll need to make sure your Google My Business profile is optimized properly. This is the first step to making sure that your business can appear in Google's local pack.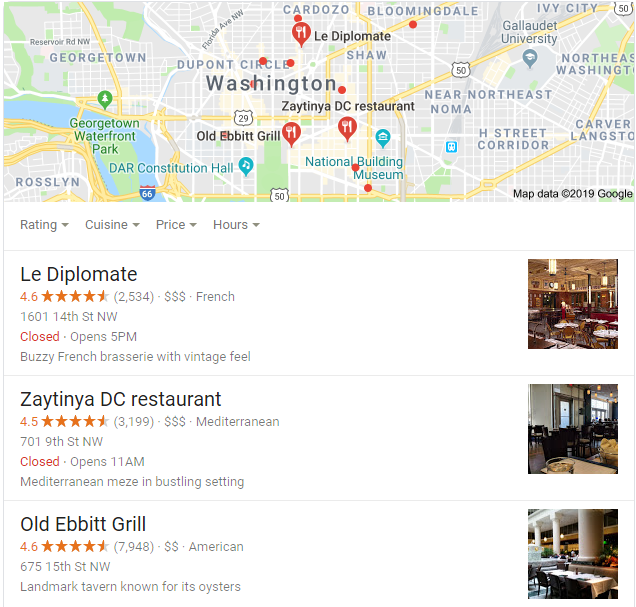 When someone clicks on a map listing, it will let them view key information for your business like your hours, address, website, phone number, and images! If you don't have your listing claimed already, then Google will do its best to fill it for you. It usually does an ok job at this, but it is always best to claim your listing and enter the info yourself to ensure everything is 100 percent accurate and fully optimized!
You'll also need to make sure that your name, address and phone number (NAP) is the same across all of your online listings to increase the odds of getting a top spot in the DC search results!
We build local citations for you
Like we mentioned, keeping your NAP consistent across all your online listings is important. That is exactly why we build local citations. There are local listings that are easier to claim like Bing Places, Yelp, and Facebook, but others require more effort to claim!
The premise behind local citations being key to ranking well is simple. From Google's perspective, how can it recommend showing your business to searchers if your businesses NAP is not the same across the board? They won't be convinced enough to rank you well in the search results. DC Web Design makes sure that your local citations are always up-to-date so you can improve your local pack rankings.
Target keywords with "Washington DC" in them
If you want to rank well for a given keyword in DC, then you should make sure that you have your local area in them. For example, if you're an HVAC company in Washington DC, then you're going to want to target local keywords like "A/C Repair in Washington DC" or "HVAC services in DC."
Also, having location specific pages can help ensure that your keywords are targeting that specific area. While we focus on optimizing Washington DC area businesses, we can help your other locations too!
But our process doesn't stop there. We work behind the scenes to drive qualified traffic to your site using an array of techniques. Our link building team will help you develop a strategy for creating content that attracts links from reputable sites. These links will improve your authority, as well as the chances of a first page ranking. With strategies like longform content and infographics, we can help you gain the exposure you want with the qualified links you need.
There is much more that goes into local SEO services in Washington DC
These are not the only factors that go into ranking well in the Washington DC search results — it is only the beginning. It also takes getting great reviews, link building, improving user experience, and more to rank well, all of which we offer at DC Web Design!
Talk to the local SEO experts in Washington DC
Do you have what it takes to rank the best for your business type in Washington DC? We bet you do! DC Web Design has dedicated local SEO experts that work on your campaign. We work with you to understand all of your unique business needs and goals, because we see ourselves as an extension of your team.
To speak to one of our many local SEO experts, give us a call at 202-370-7515 or fill out our free quote form for additional pricing information!
---