Pay-Per-Click (PPC) Advertising Services to Propel Your Business Forward
All businesses rely on advertising to draw in consumers. Today, the majority of that advertising, around 54%, happens online, much of it in the form of pay-per-click (PPC) advertising.
PPC is incredibly cost-effective and has the potential to drive valuable traffic and leads to your website.
With over 500 client testimonials from a wide variety of industries, DC Web Design & Marketing is the PPC services agency with the experience and dedication to harness that potential and send your business down a road to great profits. Get in touch with us today for a quote!
DC Web Design & Marketing PPC services
PPC can seem simple enough in concept, but a great many things go into a successful PPC campaign. If you want your PPC advertising to pay off, you'll have to consider the full range of factors at play.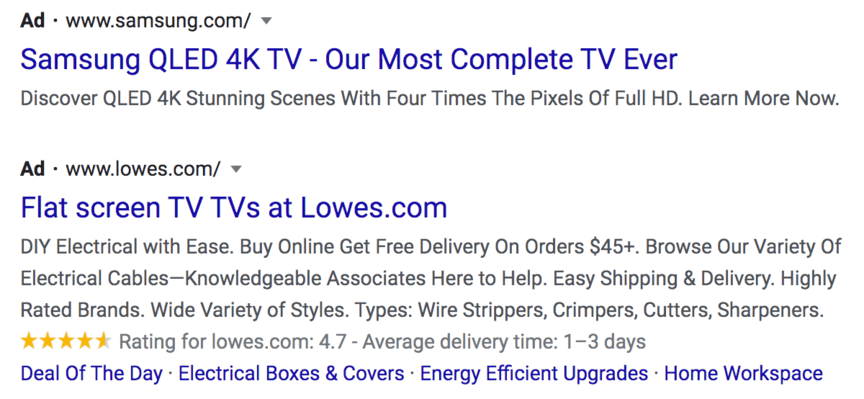 At DC Web Design & Marketing, we offer services related to everything you need to make your advertising reach its full potential. Some of the many PPC deliverables we provide are:
Access to Google Ads and Bing Networks
MarketingCloudFX competitor and lead tracking
Lead phone call tracking and transcribing
Extensive keyword research, selection, and implementation
A dedicated account representative
Creative ad copy development and testing
Advanced ad targeting
Custom PPC plans and pricing
We understand that different businesses have different needs, so we've created three service plan options for you to choose from. Our Basic, Aggressive, and Market Leader plans each come with their own compilation of features.
Basic | $425/month
Up to $2500/month ad spend
Up to 400 targeted keywords
Google Ads Network
Aggressive | 15% of ad spend/month
Between $2501 and $12,000/month ad spend
Up to 2000 targeted keywords
Google Ads Network and Bing Networks
Market Leader | 12% of ad spend/month
Between $12,001 and $50,000+/month ad spend
Up to 10,000 targeted keywords
Google Ads and Bing Networks
5 benefits of our PPC services
It should be evident from the above lists that DC Web Design & Marketing offers every technical feature you could want in a PPC campaign. But none of those features can replace the benefits of having a competent and dedicated team to work with.
Fortunately, DC Web Design & Marketing offers this as well. By working with us, you'll gain many advantages that just can't be measured in money.
Shared goals

Once you bring us onto a project, we make it our mission to achieve whatever goals you establish. We'll work as though your company is our own, seeking to bring in as much profit for you as possible.

Customization

We don't rely on cookie-cutter PPC procedures to help your company. Our team handcrafts each campaign to fit your business, tailoring it to your strengths and needs.

Time savings

When it comes to PPC services, we waste no time. With over 20 years of experience, we know exactly what we're doing, and we can get the job done with incredible efficiency. You won't have to worry about spending time figuring everything out, we've got you covered.

ROI reporting

Once we've started creating PPC ads for you, we won't leave you hanging out to dry. We follow up all our work with extensive return-on-investment (ROI) reports to analyze how well our services are working, so you can see exactly how beneficial they are.

Transparent pricing

Since PPC is all about driving profits, we know that money is an important consideration for you. For that reason, we don't make our pricing unpredictable or obscure, we tell you right up front what our different service plans cost, and what you get with each one.
Why choose DC Web Design & Marketing for PPC services?
Our PPC services are phenomenal, but we're not only a PPC services company. To really boost your business, you can also come to us for SEO services, as well as web design and social media.
With over 1000 clients and a nearly 100% client retention rate, DC Web Design & Marketing is the best in the business when it comes to PPC. Call us at 202-370-7515 or fill out