PPC Management Services to Propel Your Business Forward
With more and more traffic online each day, businesses are relying on advertisements to draw in consumers and connect with qualified customers and businesses in need of their products or services. In fact, about 61% of advertising happens online in the form of pay-per-click advertising (PPC).
PPC can be an incredibly cost-effective solution and has the potential to drive valuable traffic, leads, and new or returning customers to your website. By utilizing the same concept as traditional advertising, PPC occupies space on the search engine results page, except you only pay for the ad space when someone clicks on it. This advertising strategy can help your business reach a qualified audience and get an advantage on the competition - without paying for unused ad space.
DC Web Design & Marketing can provide custom PPC Management advice tailored to your business and industry from a variety of experiences that have been acquired by working with over 500 clients. Get in touch with us to learn more about our PPC plans and get your free quote today!
DC Web Design & Marketing PPC services
Even though PPC can seem like a simple concept, many elements go into a successful PPC campaign. If you want your PPC strategies to have a strong return on investment, you will want to consider the full range of factors.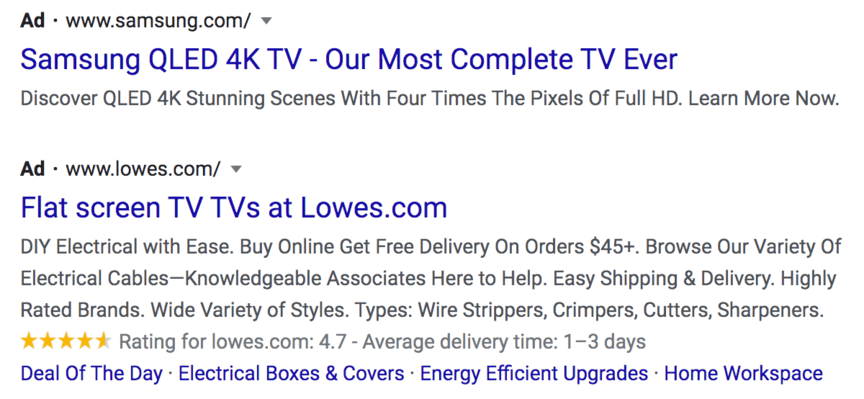 At DC Web Design & Marketing, we offer end to end management services from research to development, management and beyond to ensure we are able to provide and implement a strong PPC strategy. By seeing the development of the campaign from the beginning, we are able to ensure the advertising strategy is able to reach its full potential.
Some of the many PPC deliverables we provide include:
Access & Configuration of Google Ads and Bing Networks
Access to MarketingCloudFX competitor and lead tracking
Phone call tracking and transcribing
Extensive keyword research, selection, and implementation
A dedicated Internet Marketer
Creative ad copy development and A/B testing
Advanced ad targeting
Custom PPC plans and pricing
We understand that different businesses have different needs, so we have created three service plan options for you to choose from. Our Aggressive, Market Leader, and Enterprise plans each come with their own compilation of features and benefits.
Agressive Plan
15% of Ad Spend/Month
Initial Investment: $750 + 1 Months
Management Fee
$1,200 Minimum
Market Leader Plan
12% of Ad Spend/Month
Initial Investment: $700 + 1 Month
Management Fee
$2,500 Minimum
Enterprise Plan
12% of Ad Spend/Month
Initial Investment: 1 Months
Management Fee
$7,500 Minimum
Are you interested in more information about our paid advertising plans? Contact us online to chat with a representative from our PPC team today!
5 benefits of our PPC services
It is evident from our featured plans that DC Web Design & Marketing offers different features you could want in a PPC campaign; however, none of those features can replace the benefits of having a dedicated team to work with.
By working with us at DC Web Design and Marketing, you will gain many advantages from best practices to guidance through the whole PPC management process.
Shared Goals

Once you bring us onto a project, we make it our mission to achieve whatever goals you determine. We will work as though we are a part of your team, seeking to bring in as much profit and return as possible.

Customization

We do not rely on cookie-cutter PPC procedures to help your company. Our team handcrafts each campaign to fit your business, tailoring it to your strengths and needs.

Time Savings

When it comes to PPC management services, we waste no time gathering data and getting your project started. We have over 20 years of experience, we know exactly what we are doing, and we can get the job done with incredible efficiency.

ROI Reporting

Once we have started creating PPC ads for you, we will not leave you hanging out to dry. We follow up with monthly customized reports to analyze how our services are performing based on factors such as return on investment. This will help to show the results and value that we are bringing to your business through our PPC management strategies.

Transparent Pricing

Since PPC is all about driving return and getting in front of qualified potential customers, we know that money is an important consideration for you. For that reason, we do not make our pricing unpredictable and obscure.
Why Choose DC Web Design & Marketing for Your PPC Management Services?
At DC Web Design and Marketing, we have used years of experience and hundreds of clients to become experts in PPC Management. We have been able to drive meaningful results and see strong success from our campaigns to businesses in many different industries.
If you are interested in more information about our PPC Management Services and if you want more details about how we can customize our plans to drive results for your business, contact us today!
---